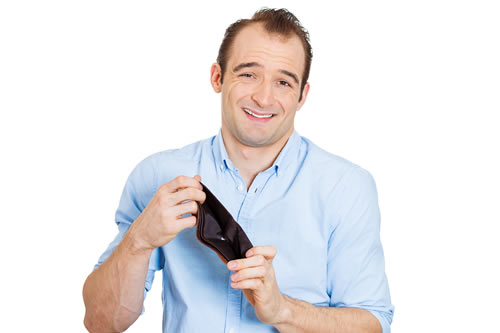 Borrowing Money to Family or Friends
We all have had to deal with some family member or friend who wanted to borrow money for some or other reason. It also never gets easier to say no when a friend or family members asks for a friendly loan. As much as we love them, one should always go into a situation like that with one's eyes open and consider a few things before lending money to family member or friend.
Times are tough and getting worse by the month. For this reason people are turning to family members for assistance more and more. It is easier to borrow from family because they will understand when you will not be able to make regular payments. Unlike the banks that require exact periodic payments family members will always be forgiving. In most cases that is exactly the mind-set of someone who borrows money from family members or friends.
In our opinion it is better to say NO to a family member or friend who wants to borrow money. The NO might go down with some resentment now, but usually it only lasts for a few days or weeks after which the love will return. On the other hand, if you say YES, and promised payments are not forthcoming it could cause months or years of resentment between loving family members. It is a fact that money can make enemies of the best friends and most loving family members.
If you do decide to go with the YES and continue to lend money to a family member or friend, we offer the following tips and advice.
1. Don't expect the money back
Many experts say that a loan to a family member is a gift, not a loan. Adopt a mind-set that you'll never see the money again. We are not saying that you must wright off the money in reality, but when the loan goes unpaid you won't be as disappointed as you otherwise have been.
2. Expect slow payments
Family members are notoriously slow payers. Have you ever wondered why they are asking YOU for a loan and why they did not go to a bank? In most cases it is because their loan applications get declined with the bank due to a bad credit record. If they can't even keep payments up to date with a commercial institution that will easily litigate without blinking an eye, red lights should be flashing. Historically borrowers of money from family members or friends don't view those loans as serious as loans from commercial institutions.
3. Take the emotion out of it.
By taking the emotion out of it and adopting a business mind-set when dealing with these situations you is laying the correct foundation to ensure that the situation will not ruin good relationships.
4. Ask a few questions
It is well within your right to ask what the money will be used for. Many times family members have an addiction to gambling and by lending them money you are only feeding the problem. Don't just accept it when they say "trust me". By refusing a loan you might be looking out for your family member a lot better than what you otherwise would have. Don't allow them to spend money on wasteful things.
Also, ask about affordability. Ask them how they plan to pay back the loan. Can they even afford to pay back the said loan?
5. Check their track record
Making the same mistake twice is not wise. If you have borrowed money to your friend in the past, ask yourself if they have paid back that loan yet? If they did, how did they make payments? Did they pay as promised and did they use the money wisely?
6. Get some paperwork in place
Don't be afraid to pull up an agreement in writing that stipulates the payment terms, possible interest rates if applicable and the size of the instalment.
By putting something in writing it will motivate the family member to take the loan more serious and hopefully help them to pay the loan back as they should.