[Partnered Article] By Dr Roelof Botha, Economic Advisor to the Optimum Investment Group
In March, South Africa's manufacturing sector recorded its highest ever level (at current prices). At a value of R249-billion, the March figure was marginally higher than the previous record, set in November last year, but marginally lower when adjusted for inflation.
During the first quarter of 2022, total manufacturing sales amounted to R664-billion (at current prices), eclipsing the sales of the first quarter of last year by 11% and confirming the upbeat trend of the Absa/BER purchasing managers' index (PMI) for manufacturing. The latter has been running above the neutral 50-mark for 19 of the past 20 months – the only exception being the politically motivated unrest in KwaZulu/Natal in July last year.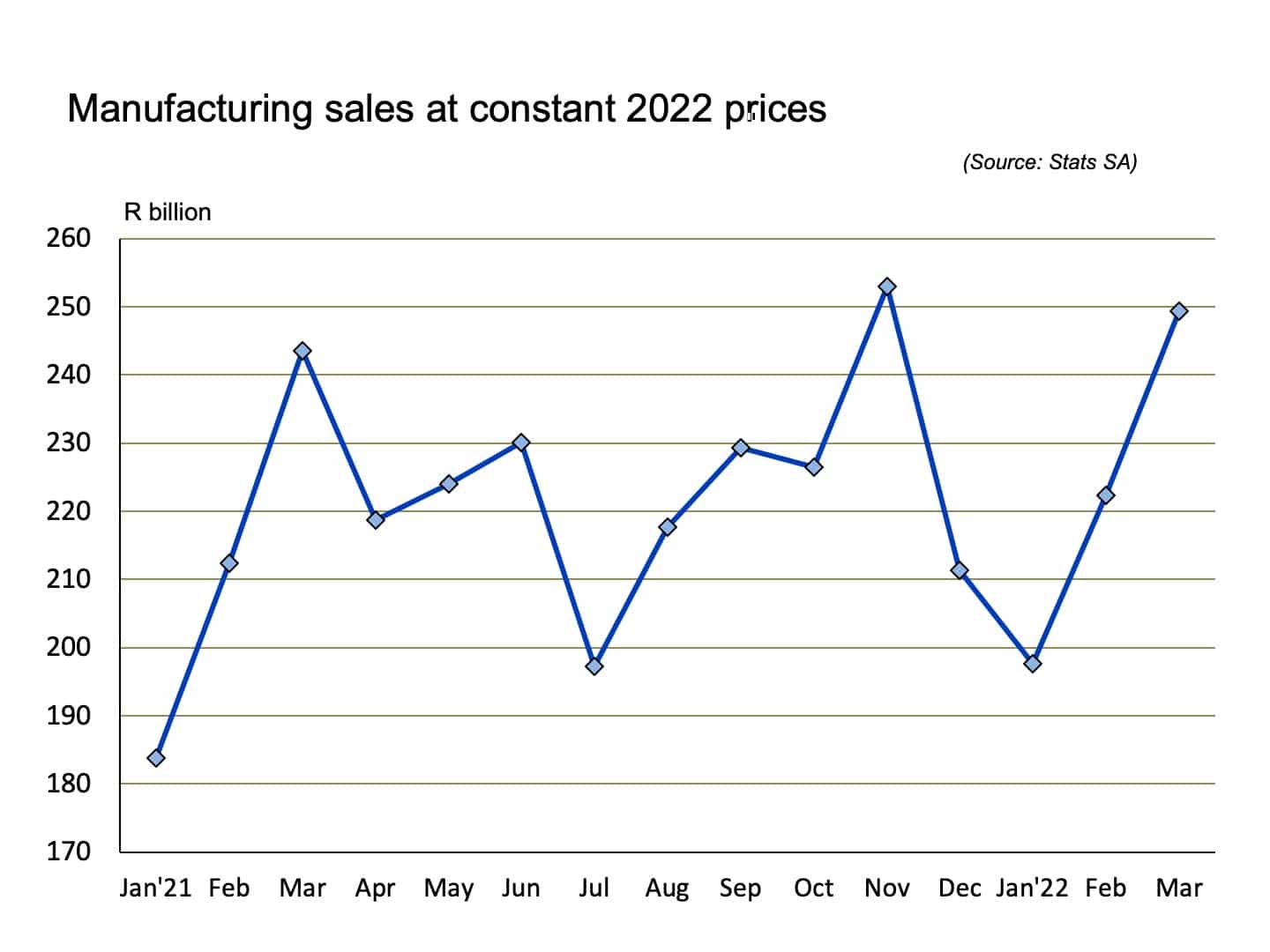 Other exceptionally good news on the economics front sector is the new all-time record for the country's exports. At a level of R186 billion, exports for March were a whopping 31% higher than in February and 11% higher than the previous record (in March 2021).
It is clear that the sharp rise in the country's export earnings has been fuelled by a continuation of the upward phase of the current commodity price super-cycle, especially for coal. Of late, the war in Ukraine has exacerbated Europe's energy crisis and led to further upward pressure on the prices of several of South Africa's key export commodities, especially iron ore and coal.
Record exports have made a substantial contribution to one of the longest spells of trade surpluses in several decades. This has also supported the rand, which remains one of the world's best-performing currencies against the US dollar since April 2020. During mid-May, the rand was 18% stronger against the US dollar than early in April two years ago, in contrast to several other emerging market currencies, such as the Argentine peso.
It is clear from these fortuitous developments that the South African economy is building up steam. Together with the gradual recovery in tourism-related sectors and the imminent expansion of infrastructure spending (especially on energy), more jobs should be created in the coming months.
Unfortunately, many consumers are feeling the pinch of a substantial increase in fuel prices.
Hopefully, the war in Ukraine will soon come to an end, which should be followed by a decline in the oil price and eventually ease the pressure on South Africans and motorists.
Hopefully, also, the SA Reserve Bank will not overreact to the recent rise in inflation and keep any increases in interest rates in check. After all, higher prices have been caused mainly by inordinately steep increases in the cost of electricity and petrol and higher domestic interest rates cannot rectify this problem. The South African economy needs growth and job creation, not an obsession with lower inflation.