Debtsafe Voted South Africa's Favourite Debt Review company
The past weekend saw the very first Debt Review industry awards. Presented by DebtFreeDigi magazine it was a milestone for the debt counselling industry. At the Award Gala credit providers, debt counsellors and Payment distribution Agencies were awarded for the contribution they have made to the industry.
One of the award categories was open for the South African public to vote for their favourite Payment distribution Agency, favourite Bank to deal with and favourite Debt Counselling company.
Debtsafe was voted for by the South African public as the country's favourite debt review company.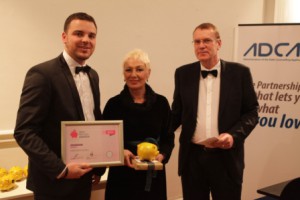 We would just like to thank all the consumer who voted for us and also our staff for doing such a great job assisting consumers. We at Debtsafe believe in making new beginnings for consumers and by receiving this award it is clear that our motto stands true.
Every consumer entering the debt review process is treated with respect and integrity. Debtsafe keeps it personal with every consumer in the debt review process by assigning a dedicated relationship manager with whom the consumer can communicate 24/7.
We at Debtsafe look forward to the rest of 2014 and to the continued success of our business.