In honour of #WomensMonth2020, DebtSafe wants to remind ALL South African women that they – the strong, the courageous – are the ones who carry and nurture the overall heart of South Africa, especially during unexpected hardships. They deserve all the love, help (in various fields, including finance) and applause they can get.
DebtSafe, recently did specific research that can shed some light on the overall financial challenges women may experience during difficult times. They, therefore, need all the necessary help or tips to assist them in doing what they do best – being women and juggling various responsibilities, such as financial commitments.
As seen from the women respondents, 77.90% of the 1240 total/overall participants, that took part in this research (see the infographic/designed image for more detail). The top findings include the following:
Women have various dependants to take care of: children (38.10%), parents (15.11%), young adults (7.14%), or extended family members & friends (4.55%).
Women confirm that their household income numbers mostly reflect between a low R 0 – R 5 000 (28.63%), R 5 000 – R 10 000 (22.90%), R 10 000 – R 15 000 (14.89%) and R 15 000 – R 20 000 (14.50%).
Women's most pressing financial responsibilities (during a hardship) include the following: food (95.22%), water & electricity (63.38%), rent (53.50%), data/internet (30.25%) and medical aid (25.80%).
74.12% has debt or credit obligations they need to take care of and their typical/top debts include: clothing accounts (49.55%), credit cards (45.95%) or personal loans (38.29%)
During a crisis (as seen from the Coronavirus and lockdown experiences) women stop paying/committing to certain financial obligations such as savings/investments (22.93%), retail accounts (21.97%), daycare/school fees (20.06%), credit agreements  – for example, a credit card or personal loan (19.11%) and pay television/streaming subscriptions (16.56%).
An unforeseen occurrence like the current COVID-19 pandemic or lockdown specifically harms their finances (75.82%), emotional well-being (54.53%), and stress levels (50.42%).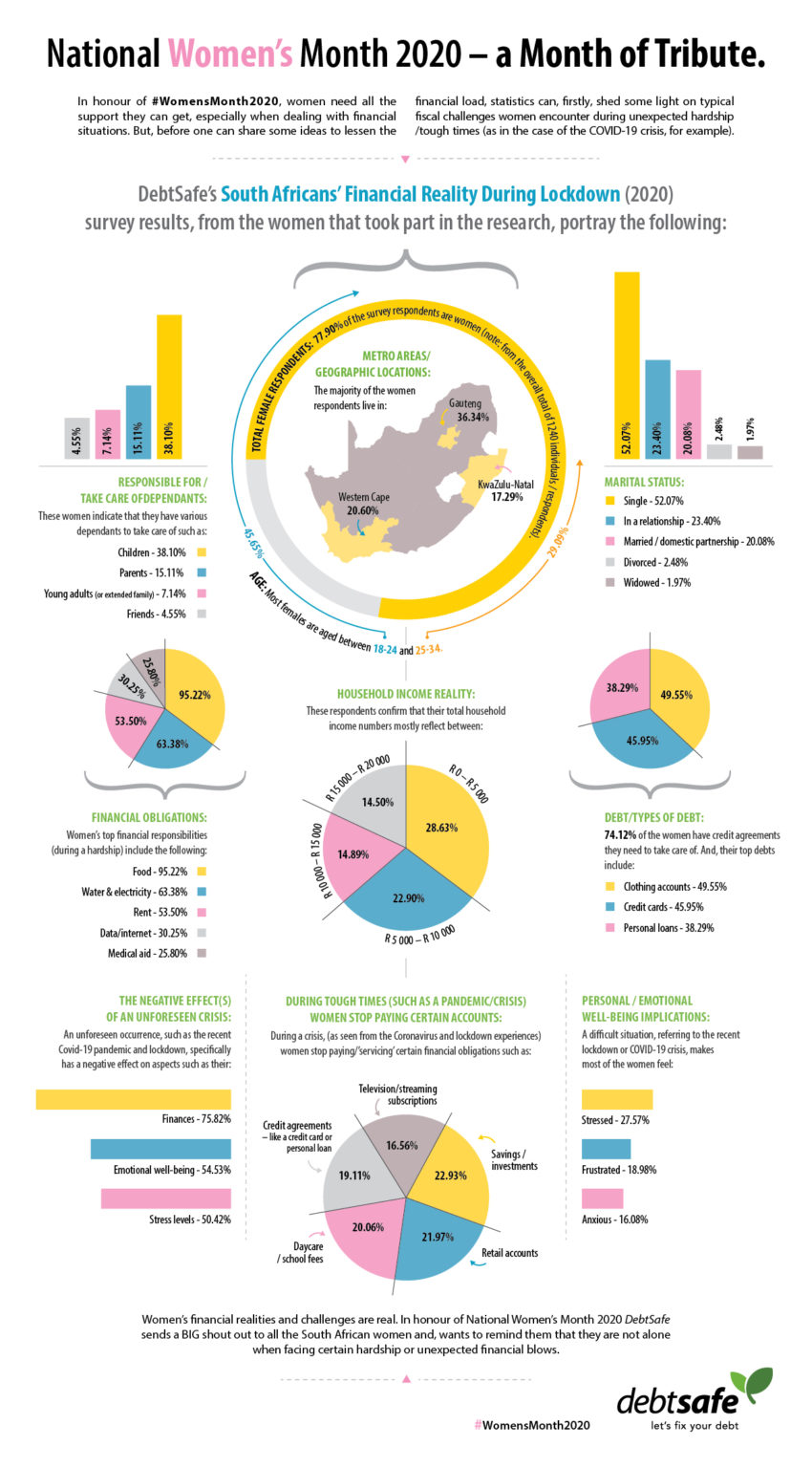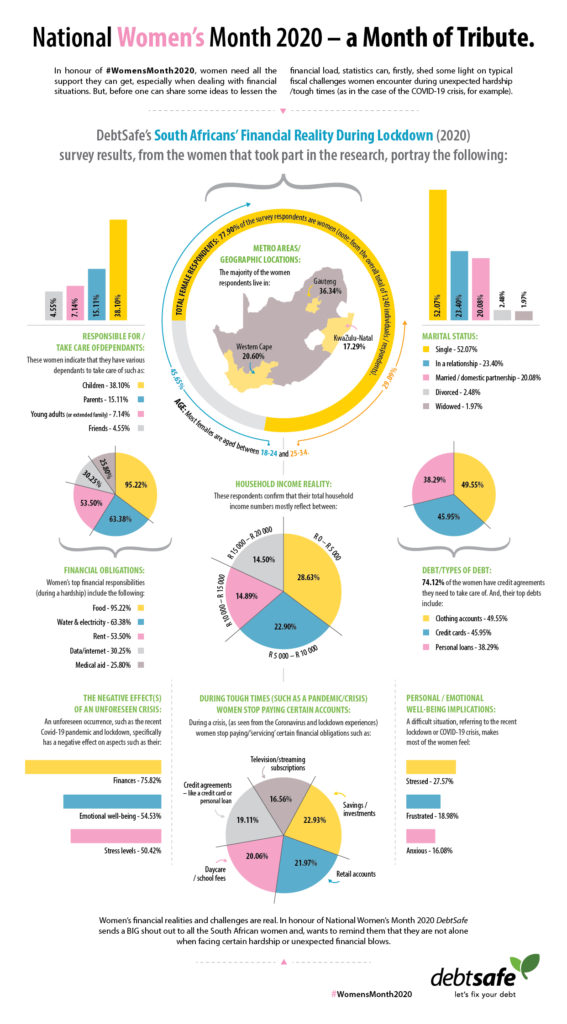 So, after taking the above and certain 'reality pointers' women go through into account, what tips/frugal ideas can women consider to support them when dealing with a financial hardship or startling challenge? The following is only a drop in the bucket, but can help women to cope with various financial matters and different financial scenarios:
How to deal with financial challenges when responsible for dependants
Household realities (say during a crisis) can indeed change. According to experts, the failure-to-launch syndrome suggests that young adults continue to live with their parents for a longer period these days (as seen in recent statistics), or women can find themselves being part of a sandwich generation – where they regularly need to support a loved one (such as a brother, sister or parent). Not to even mention handling a pandemic/crisis as well.
Women can deal with these types of circumstances by getting the whole family involved to execute financial goals, encourage household members to offer income generation options or boosts, and making sure each individual plays a contributing part to lessen various living expenses. For example: limiting using energy-hungry household appliances or sticking to grocery lists during shopping outings.
How to make ends meet with various credit/financial responsibilities
Sticking to a budget is not at all easy, especially during challenging times. A recent salary cut may be the 'new normal'. What can a woman or mother do?
First things first, they must take a look at their budget to get clarity on where they are at. And, they should highlight spends aka spending leaks. It is an ideal time to also be proactive and innovative, and women can get properly committed to making their new budget work by cutting unnecessary costs or spends, trying to look for ways to perhaps boost their cash flow or selling unnecessary items they do not use. Letting go of stuff (from the kitchen to garden) can not only 'clear the room' but bring in much-needed bucks.
How women can better prepare themselves for a future emergency
Women should not be too hard on themselves, they cannot predict the future or any upcoming emergency. BUT what they can do is to be prepared for another/future one (just for in case). They have to envision an emergency plan and action it, eventually, to an emergency fund.  By saving costs (say during shopping outings) they can add extra money to an account or 'savings pocket/buffer', and when they can tuck a certain amount of money away again (it does not matter how small at first) they can slowly but surely make sure they have some emergency stash available when they need it.
When women are in dire financial situations – how to fix their debt
Having to 'service' more than one credit obligation is nothing new. Women have to build a positive credit score somehow. But, as seen from recent research tough times call for changing realities (for example, women not being able to pay all of their debts).
Women need to have open discussions with their households, financial advisors and creditors – letting them know about their situations or asking about options. They have to practice open communication, do their research well and find suitable solutions to continue paying their debt or fixing their debt.  In situations where they still receive a form of income, a regulated process such as Debt Review is a viable option to consider.  
How to incorporate self-care when it comes to tackling those finances
Women can tend to forget the most important thing when dealing with emergencies or a financial crisis – themselves/their self-care.
They must take care of their physical and emotional well-being during these times. They should ask themselves what is valuable for them and they should 'take stock' of what things are worth or not worth spending their time and money on. They have to build their personal mini-economy according to their goals, values, and realities. And, by regularly reviewing and repeating what they want, they set their dreams into action (frugal habits).
Here's a proper shout out to all the South African women out there. And, the BIGGEST cheer (clap x 1 000 000) in support of the nation's heartbeat. Happy #WomensMonth2020.